Egypt's Future Work is Digital
Egypt Future Work is Digital
In these times of challenges and great opportunities, the current and future reality of learning, skills training, and work are changing! Momentum is rising towards going all digital; outreaching from personal spaces to online global scapes; merging goals and markets and opportunities. It's never been a better time to go fwd!
Under the umbrella of Digital Egypt Strategy, Ministry of Communications and Information Technology (MCIT) launches the Future work is a digital initiative powered by Information Technology Industry Development Agency (ITIDA)  to equip and train 100 000 young Egyptians through ITIDA and Udacity an online learning platform for digital technologies and skills to remote work and local market opportunities.
fwd is an 18-month scholarship program, providing the learners with an integrated learning and upskilling experience which includes access to Udacity online learning classroom, hands-on-practise expert-reviewed projects, online support webinars, professional industry mentors, interactive peer-to-peer community and continuous coaching.
MAXIMIZE YOUR FUTURE WORK OPPORTUNITIES NOW!
fwd unlocks learners' potential by providing tech and business acquisition skills to compete successfully for gigs and remote work opportunities offered by the leading online marketplaces!
Digital future jobs unlock new opportunities to increase income and upskill capabilities.
ENROLL NOW

Lead by
Powered by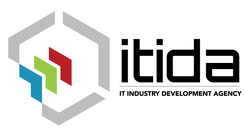 Managed by